State-of-the-art professional lighting,
100% reimagined

.

Extreme color rendition and the smallest, most versatile form factor in the world.

The holy grail for film, photography, artisans, researchers and creative minds.
Why is
Sunlight

so difficult to replicate?

Because it's a combination of perfect color balance, very high intensity and sharpness.

We approached the matter scientifically,
by engineering an instrument that renders the colors like Sunlight does.

Say welcome to Relio².
Relio² is aimed at those who work with light and need a calibrated, modular light source that is extremely similar to Sunlight.
A million uses, where color
really

matters.

See how Relio² helps People, Companies, Museums and Academies in their color-critical projects.
# Fine Arts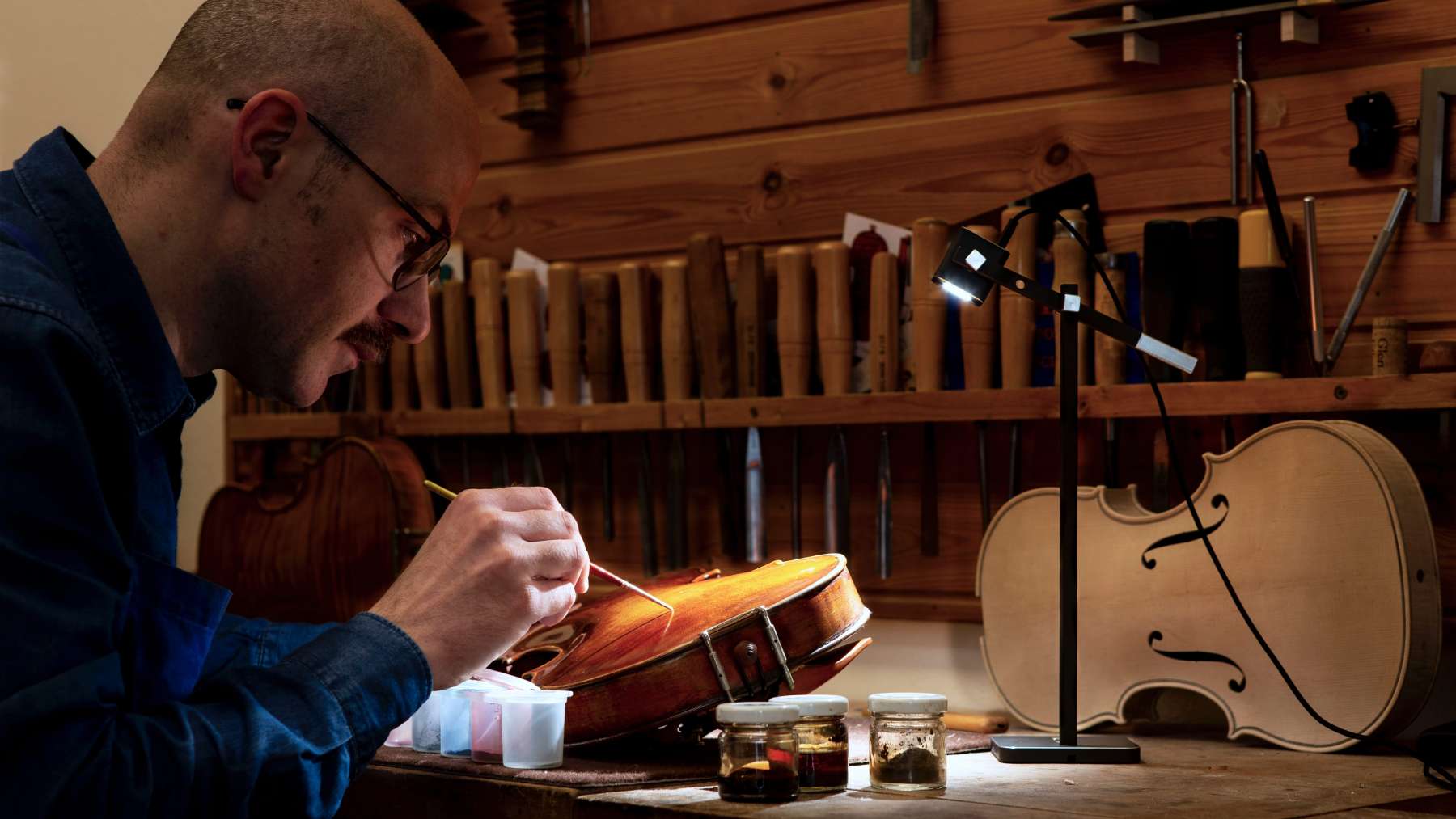 # Filmmaking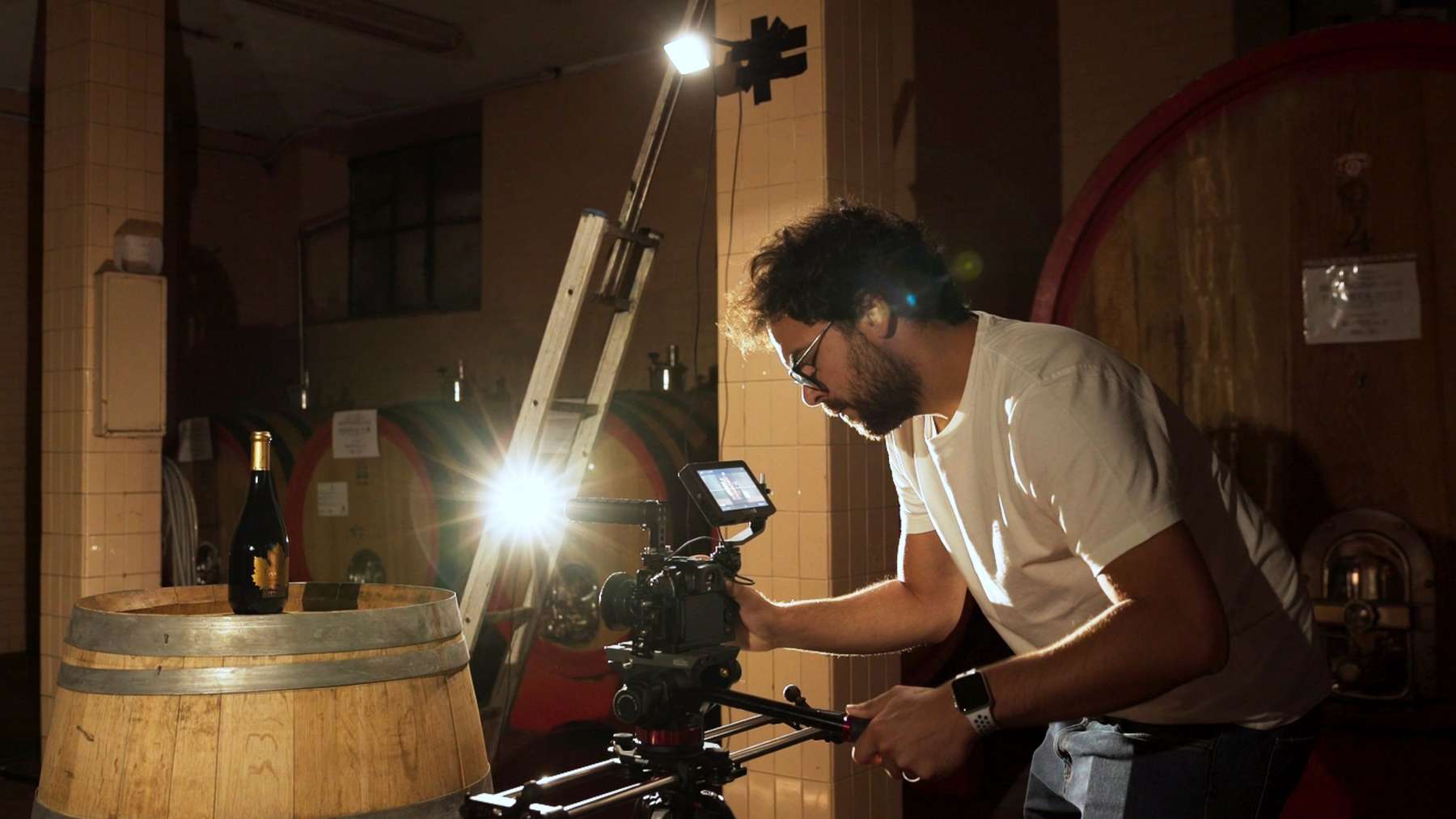 #
Cross-p
P
olarized Photography
# Photoshooting
# Scientific Research
# Museums
# Restorations
# Material Analysis
Explore more use cases
More about light quality
Modularity: the key to
total

re-usability.

We engineered Relio² to be the first universal illuminator in the world.

Magnets, rods, bolts and anti-skid pads combine together to create a transformable object that can literally be placed anywhere.
More about modularity
Fast, easy,
indestructible

controls.

We guarantee Relio² to be 100% flicker-free up to 10.000 fps.

Control it via Bluetooth® or interface it with your laboratory gear (Arduino®, Raspberry-Pi®).

A first on the market: our Bluetooth API is public and fully documented.
More about Apps and electronics
A
professional

lineup of colors.

To ensure maximum chromatic consistency, each Relio² variant emits a specific color.

They're all calibrated and suited for color-critical tasks.

A first on the market: the LED is upgradeable and future-proof.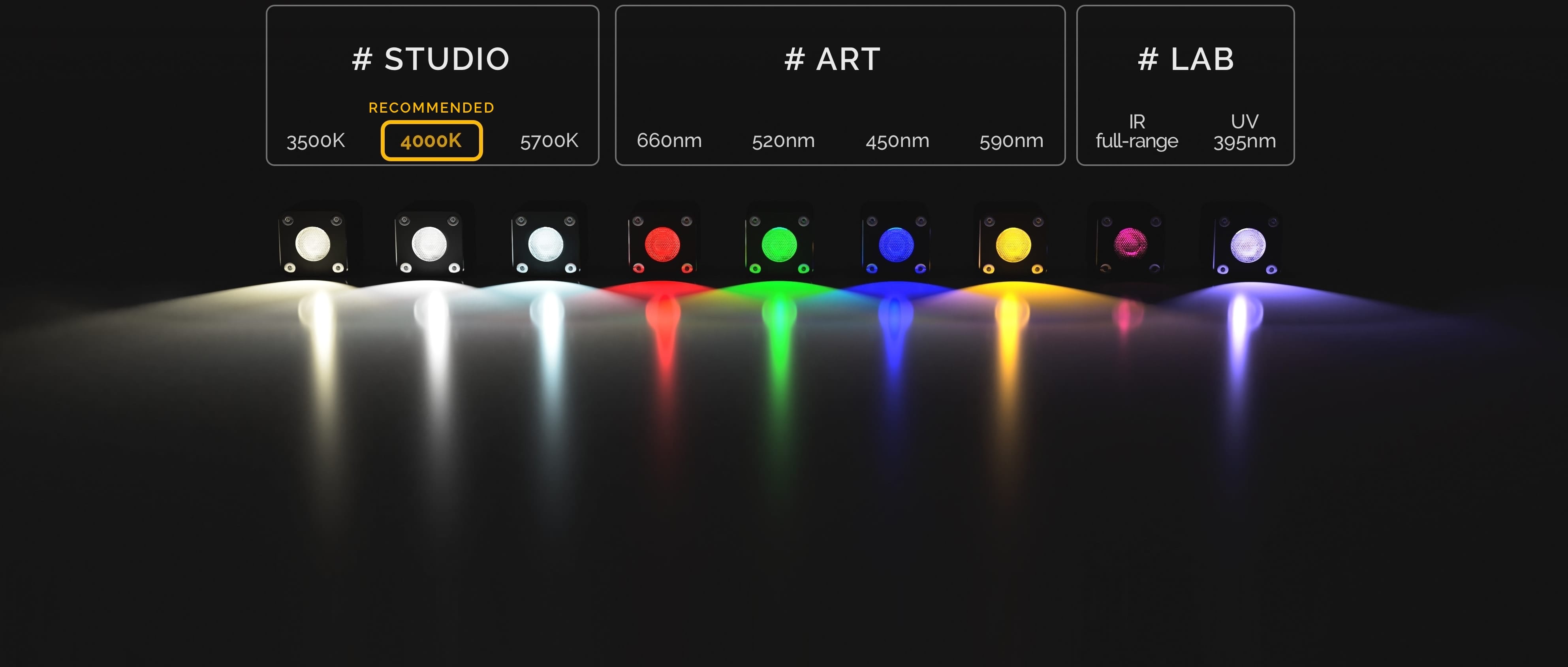 More about the colors
Base

and

Desk

kits: the perfect match.
Combine one to five Base kits to form your perfect magnetic configuration.
Add one Desk kit to transform Relio² into a beautiful, color-calibrated desktop lamp.
More about the kits
Available
NOW

!

Relio² has been tested for months by a broad range of professionals.
We're now ready to ship and deliver your order worldwide.
Buy your Relio

²
Pay with
Relio² is a handmade product with limited availability.
Engineered, manufactured and assembled in Italy.
One more thing...
Free

accessories!

We anticipate the market trend by 10 years:
we are the first manufacturer to offer official 3D-printable accessories to download.

They will always be free and printable by entry-level FDM® 3D printers.

Join the manufacturing revolution!

More about 3D-Printed accessories
Get in touch... and be rewarded.
Early notice on latest products, offers and free updates!
Reseller? Partner? Custom solution needed? Write us as-well!
Want Relio² for free? You're wasting your time...
Frequently Asked Questions
How do I get a Relio

²

kit?
Currently, Relio² is sold exclusively on this website.
Does it have an internal battery?
No. We want Relio² to withstand years and years of 24/7 use. An internal battery in such a small and powerful device would be able to power Relio² for just 15 minutes at full brightness, with a lifetime spanning no more than 6 months. Name - if you can - one product with an integrated, non-removable battery that's still 100% funcional after years of use...
How do I power it up?
Via the external microUSB connector. Every USB outlet in the world capable of providing at least 1A of current is suitable.
Why does Relio

²

still have a microUSB plug instead of the newer USB-C?
The answer is simple: maximum cable length and cord flexibiity. USB-C is born to transport a lot of data channels, so the internal wire count is 4x more, making it very thick and more rigid. For the same reason, USB-C cables lenght is limited to 2m. In the Relio² Base Kit package, we include 1x 1.5m magnetic, nylon-braided microUSB cable and 1x premium, gold-plated, nylon-braided 3m microUSB cable from a premium brand.
Can I use USB-C to USB-A, or USB-C to microUSB adapters?
Yes, of course.
Is the magnetic cable user-replaceable?
Yes. Contact us for a suitable replacement.
What if I use Relio

²

a lot and some parts wear out?
We engineered all the Relio² parts subject to normal-use wear and tear to be of common availability. Contact us for suitable replacements.
Does it have a manufacturer warranty? What does it cover?
We offer 2 years of manufacturer warranty on our terms of use and warranty. Please consult our sales terms for details.
How much power does Relio

²

draw?
1A at 5V DC. Since it integrates a step-down buck converter capable of up to 15V DC, power consumption at higher voltages will be less.
Can I power it up with a car battery or other sources of electricity?
Yes. Every source ranging from 4 to 15V DC is suitable. Input lines are protected from overvoltage and reverse bias. For more info, please consult the manual or our technical specifications.
Is it water resistant?
Yes, moderately up to IP53. For more info, please consult the manual or our technical specifications.
How many units can be operated through the smartphone App?
On iOS, we successfully tested up to 16 devices. On Android, it varies depending on the platform (around 5 units). Please note that aggregate brightness control function is still in development.
Can I develop a custom Bluetooth BLE application?
Yes. You can refer to our BLE API documentation. Please note that developing commercial applications is not permitted unless an explicit consent is received by us. Please contact us for more info.
I need assistance and documentation on how to operate Relio

²

via an external, wired microcontroller like the Arduino
®

.

We will provide you with full documentation on how to operate Relio² through logic-level signals. Please contact us for more info.
I need assistance in determining how many Relio

²

kits I need for my work.
We can do digital simulations tailored to your environment. Drop us a message via the contact form.
Do you ship worldwide?
Yes, with some limitations in some remote areas. If you don't see your Country listed in the shipping form, please contact us.
You said that the LED will be upgradeable. How will you handle that?
This is a commitment and we will honour it in case the technology advances. All the future LED upgrades will be backwards-compatible, so you'll be able to ship your Relio² kits back to us for the upgrade, for a minimal servicing fee.
Can I disassemble the LED and eletronics by myself?
Yes, and it's rather easy to do, but the warranty will be voided.
I accidentally damaged something in my unit. Are spare parts available for sale?
Yes, depending on stock availability. Please contact us and we will help you.
Do you sell physical versions of your 3D-printable accessories?
Currently no, but we partnered with some local and international suppliers that will be able to 3D-print and ship them to you. Please contact us for more info.
I want to sell your 3D-printable accessories.
Yes, why not? We release all our accessories under the Creative Commons CC-BY-4.0 license, so you are free to do that. Please remember that you have to mention us on your sales page. Also, please note that we may also link to 3rd-party items, and they may not share the same license terms of our own accessories. Always check the license bundled with each accessory that you download.
I want to be a reseller of your product.
Sure. Drop us a message via the contact form.
I want to be the exclusive distributor of your product.
Maybe. Drop us a message via the contact form.